GOJI, THE PARTNERS NETWORK OF LAWYERS
GOJI AVOCATS is a network of independent boutique law firms, with expertise in the business matters that a company may encounter, proposing the following qualities: responsiveness and complementarity. This network brings to its clients a legal and strategic answer, characterized by its operational, custom-made and experimented features.
The members of GOJI AVOCATS network contemplate the customer approach as pragmatic and committed partners, early-makers of the client's business for their clients in a long-term perspective.
GOJI is a little red berry, rich and invigorating, reinforcing the immune defense system, preserving the essential functions of the organisms and bringing down the nervous tensions.
GOJI virtues illustrate perfectly the ambitions of our network of lawyers towards its clients: to live and grow better, in a sustainable way, to preserve their interests and to reinforce their business in a serene environment.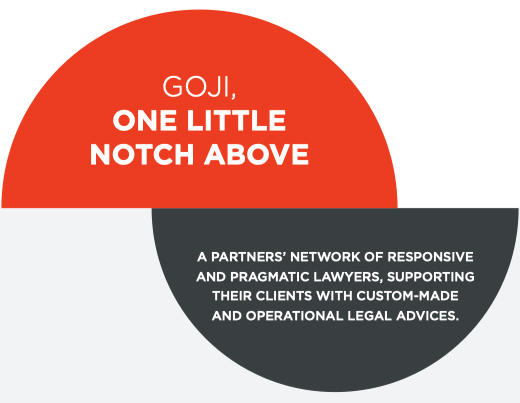 THE GOJI NETWORK'S VALUES
• To actively participate, with agility, to its clients' ambitions
• To combine legal expertise and strategic advising
• To spin constructive and sustainable customized partnerships
Reachability, excellence and reliability, in the delivery of an operational support.
A CONTRIBUTIVE COMMITMENT
GOJI AVOCATS network commits itself towards its clients, its partners and its associates, through an ethical and quality charter which purpose is to ensure the implementation of its values beyond its traditional ecosystem. GOJI, LEGAL EXPERTISE
AND STRATEGIC ADVICE
INDEPENDANT BOUTIQUE LAW FIRMS